Gone are the days where Liberace-inspired spaces were the epitome of glamour. In today's interiors, contemporary glamour has taken an organic twist. 
Easy living and warmth marry with understated elegance and sophistication. Weathered timber and rustic brick walls blend in perfect harmony with reflective surfaces, polished floors and plush fabrics. It's both glamorous and organic – and we love it!
So how can you achieve organic glamour in your home? Here, we reveal our top tips.
Start with the floorplan
Every great interior starts with the right building design. You won't achieve true organic glamour unless everything else is in place. After all, this is about creating an easy living environment that works for your lifestyle – not something that just looks good.
Watch our one-of-a-kind home that showcases organic glamour at it's best
Take the time to work with your designer and builder to ensure your home will have practical storage, quality building and a floorplan that makes the best use of your home's footprint.
From there, introduce and layer products and finishes to achieve organic glamour:
Look for contrast: When it comes to colours, textures and finishes,blend shiny and sophisticated with earthy and natural on walls, floors and furnishings. For example, a timber ceiling will work wonders with steel screens in your al fresco space. And black matt taps or bowls create a striking focal point against stainless steel sinks and high-gloss benchtops.
Brick by brick: Nothing says organic glamour like brick walls. But don't go overboard – one feature wall using recycled bricks will add just the right dash of organic flavour to an open living area or bedroom. If you have old brick walls to work with, strategically reveal these around the home without giving too much away. Remember, less is more.
Let it shine: Lift your rustic finishes to a new level with shiny surfaces. Think polished concrete inside and out, a mirrored splashback, gilded framed artwork, and lots of glass for sophisticated glamour.
Stone: Stone instantly brings a contemporary yet luxurious edge to any space. The key is to use it sparingly. Choose eye-catching feature pieces, like a stone bath, natural limestone floors and lustrous stone benchtops.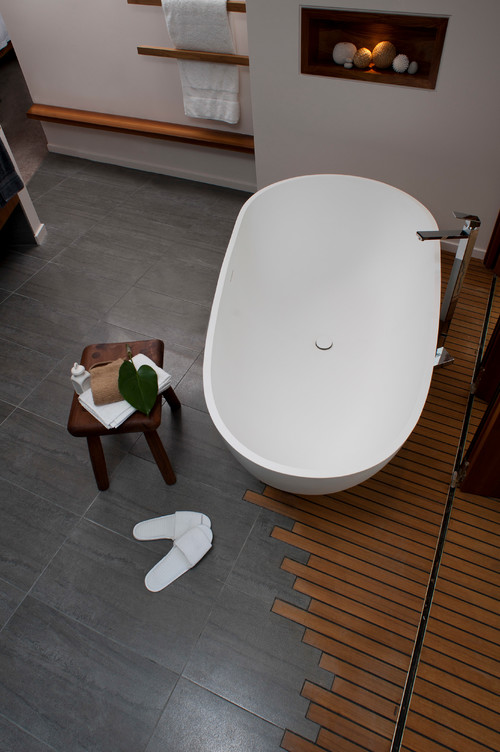 Easy does it: Organic glamour is about knowing where to hold back and keep things simple. For example, a rustic chandelier adds a dash of glam in a clean-lined interior. And a courtyard with lots of simple greenery and stone pebbles speaks volumes.
Down to earth: For your finishing touches, choose décor pieces with an earthy, natural vibe. Mix up canvas prints and timber-framed art on the walls, with a sprinkling of plants throughout the interior.
Personal touch: Organic glamour has a playful side, so don't be afraid to add personality to your design. This might be little branches of driftwood picked up on beach walks with the kids, tied with hot pink twine and placed on shiny surfaces. Add garlands of twinkly lights to soften brick walls. And why not frame the kids' paintings on the wall? The possibilities are endless!
Raw and finished, matt and shiny, natural and luxurious – it's all these things put together in a careful balance that enchants and seduces the senses. And it starts with the right builder!
If organic glamour's your style, talk to Adelaide's home extension professionals today for a free, no obligation site visit. Call us on 0409 829 871 or fill out our online contact form to find out how you can get that perfect blend of easy living and understated elegance.
Images courtesy of HOUZZ and Dowling Homes